Chapter 9: "Just Go Poop"
 The title of this chapter may be a little less than elegant. The advice given from a young elementary school student to his ailing teacher, however, is quite sound. The letter he wrote, complete with excellent illustrations, is shown below. If I were the student's teacher, I would grade the letter a C– for spelling, a B+ for art and an A+ for Naturopathic consultation.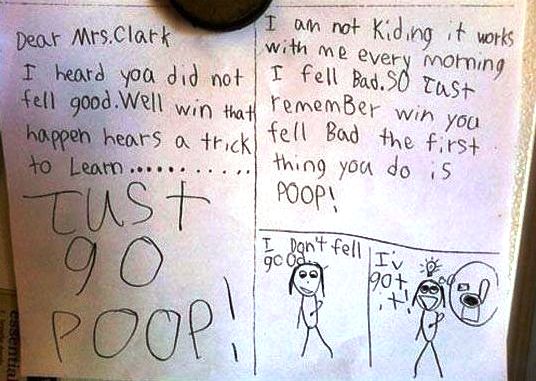 In his article titled "The Flu" Dr. Regan Golob states "I think a flu begins and ends in the colon …". In my personal experience, flu is the least of the problems caused by slow or stopped elimination. Here are a few other symptoms:
Leg cramps.
Abdominal pain.
Shoulder(s) pop out of joint.
Hip(s) pop out of joint.
Feeling tired; no energy.
Confusion; lack of focus.
Low anger threshold. Irritability.
I often wonder how many shoulder and hip operations and how many lost jobs and unhappy relationships could have been avoided merely by a salt-water cleanse and a dietary change.
What is "Normal"?
Although few people who eat the Standard American Diet (SAD) will recognize this, "normal" for a person with a proper diet is a soft, easy, quick bowel movement soon after each meal.
"Natural" Cleansing Methods.
Here are a few of the conventional natural methods of encouraging slow or stuck bowels:
Water. One quart immediately after arising, another quart before noon. A third quart during the afternoon and evening. Even more if you are overweight.
Prunes and/or prune juice.
Raisins. Add to a green smoothie or hot, whole-grain, wheat-free cereal if you don't like to eat them by themselves.
High-fiber cereals that do not include wheat or other high-gluten grains.
Salt water. 1 teaspoon to 1 tablespoon RealSalt or sea salt dissolved in 16 oz. of water. Follow immediately with another 8 to 16 oz. of clean water.
Psyllium husk. 1 heaping teaspoon in 8 oz. of water. Stir and drink quickly (it sets up like fast-drying concrete).
Wachters' Sea-Klenz (http://abhealthshop.com) Contains Wachters' special blend of organic sea vegetation and phyto-enzymes or apple-prune solids. Stir and drink quickly!
What to AVOID eating and drinking.
Wheat, in any form other than sprouted, raw. This especially includes pizza, pasta, bread, crackers, breaded foods, wheat-based cereals. Many references suggest whole wheat breads and pastas. My experience is that no wheat at all is best.
Cheese, especially with any form of wheat, like pizza, cheese sandwiches, cheese and crackers, macaroni and cheese, etc.
Ice cream.
Processed meats. (Any meat should be a minimal part of your meal, and should be eaten with non-starchy vegetables—refer to the food combining chart, page 17.)
Soda pop.
White foods (white rice, white potatoes, white flour).
What TO PREFER to eat and drink.
Clean, room temperature water, and lots of it. At least one ounce per 2 pounds of body weight every day. Begin each day with at least 32 ounces of clean water.
Herbal teas, especially Super Dieter's Tea or other Senna-based tea.
Fruit and fruit juices, especially water-full fruits like melons, peaches, pears, plums, prunes, grapes, apples, etc.
Vegetables, especially raw leafy greens.
Beans, including green beans.
Yams and sweet potatoes.
Brown rice.
Dr. Golob's Carrot Salad (http://www.abcompany.com/docgolob/recipes.htm).
Dr. Beiler's Healing Broth (http://www.abcompany.com/docgolob/recipes.htm).
Millet and buckwheat.
Whole grain cereals (without wheat).
Remember to Alkalinize!
Beans, rice, prunes and most grains are acidifying. Restore your 80% alkaline balance with super-foods like Beiler's Broth. (Equal portions of green beans, zucchini and celery steamed until tender, then cooled and blended into a liquid with a handful of raw parsley.)
Wisdom, from whatever source, is still wisdom!
Heed the wise advice of the spelling-challenged student. Be certain each and every day that you "Just Go POOP!"